World news story
Sir John Beddington honoured by the Emperor of Japan
This was published under the 2010 to 2015 Conservative and Liberal Democrat coalition government
This award has been made for his remarkable contribution for promoting science & technology exchange between the UK and Japan.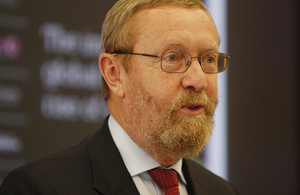 Sir John Beddington, the former UK Government Chief Scientific Adviser (GCSA), has been awarded the Order of the Rising Sun, Gold Rays with Neck Ribbon (Kyokujitsu Chu-Jusho) from the Emperor of Japan.
Sir John was the GCSA during the March 2011 Great Tohoku Earthquake and the Fukushima Dai-ichi Nuclear Power Plant accident. In close coordination with the UK and the international scientific community, he led the development of advice to the government at the time through the Science Advisory Group in Emergencies (SAGE). The advice made it possible for the British Embassy in Tokyo to take calm actions at the time, assisting the Japanese government and its citizens. The advice was to not evacuate the British Embassy or British Nationals from Tokyo – a difficult decision made through sound judgement of scientific evidence.
At the time, Sir John participated in four telephone conferences during which he provided information and engaged in Q&A sessions with both embassy staff and UK citizens in Japan. Transcripts and recordings of the conversations, along with other statements, were published on the embassy website for public view and made available through social media. This allowed people to hear directly of any possible implications and understand what constituted the "reasonable worst-case scenario."
The direct public engagement demonstrated the UK's approach to open government and the use of the evidence to inform government decision making. Not only did UK citizens find this information useful, it was also available to the Japanese public. At a time when the public was confused and unsure of the credibility of information carried by the media, an overseas science voice undoubtedly helped to calm the situation. Furthermore, it helped people make informed decisions about what was best for themselves and their families.
UK experts continue to support the ongoing decommissioning efforts at the Fukushima Daiichi nuclear power plant. UK and Japan have established a joint civil nuclear research programme with a focus on severe nuclear accident studies and environmental safety.
More on the UK response after the Fukushima Dai-ichi NPP accident is available at the Science & Diplomacy website
Sir John Rex Beddington CMG FRS is currently Professor of Natural Resource Management at Oxford University, Senior Adviser to the Oxford Martin School and Chair of the Rothamsted Research Board of Directors. He also holds other various positions in academia and government.