Sir David Attenborough celebrates Henderson Island World Heritage Site
Sir David Attenborough pledged his support for Henderson Island World Heritage Site at an event hosted by Henry Bellingham, Minister for the Overseas Territories, and the Royal Society for the Protection of Birds (RSPB) on Tuesday 6 July.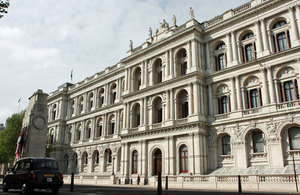 The evening celebrated the success of a recent research expedition to Henderson Island, supported by the UK Government's Overseas Territories Environment Programme (OTEP). The programme enabled the establishment of a rodent eradication operation.
Commenting on the island's importance for birds, Sir David Attenborough said:
'All of these birds are under threat because of Pacific rats, one of the few human legacies. Rats simply cannot resist eating a fluffy day-old petrel chick. Luckily, technical expertise is advancing in leaps and bounds. We now have an opportunity to rid Henderson forever of the rats and ensure the island remains a natural jewel.'
Henry Bellingham said:
'Henderson Island, like many parts of the UK's Overseas Territories, has an incredible wealth of biodiversity. The UK Government is working with Territory Governments and environmental organisations to protect these assets. I am pleased that the recent research expedition to Henderson was a success. And I am delighted that in the UN International Year of Biodiversity the UK Government is supporting the important work to protect the endemic seabirds which nest on Henderson.'
Henderson Island, part of the Pitcairn Island group in the South Pacific, is one of the most remote islands on the planet. One of the richest examples of UK biodiversity, the island is home to over 55 species found nowhere else on earth, including four unique land-birds. It is also the only known nesting site of the endangered Henderson petrel.
This unique wildlife is under threat due to introduced Pacific rats. Fieldwork has shown that these rats are killing 95% of petrel chicks - over 25,000 every year. This is unsustainable, and seabird numbers have dropped from an estimated 5 million pairs before rats arrived to just 40,000 pairs today, pushing the Henderson petrel towards extinction.
Sir Ian Darling, Chair of RSPB Council, commented:
'The eradication operation will have instant and long-lasting results. Donors have the exciting opportunity to stop the decline on this precious World Heritage Site and prevent the extinction of the Henderson petrel.'
The United Nations declared 2010 to be the International Year of Biodiversity, coinciding with the 2010 Biodiversity Target, part of the Millennium Development Goals, which seeks to reduce the current rate of biodiversity loss for the benefit of all life on Earth.
Published 7 July 2010