Sir Anwar Perwez on doing business in the UK
In a short film launched today, Sir Anwar Perwez OBE discusses how he started his business in the UK. Sir Anwar is the founder of Bestway, Britain's second largest cash and carry firm.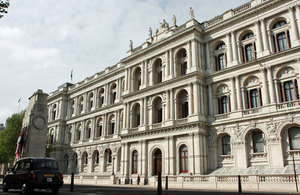 The film is one in a series featuring individuals from home and abroad talking about their experiences of modern Britain in the run up to the London 2012 Olympic and Paralympic Games. In his film Sir Anwar, gives his account of doing business in the UK, and of the support he believes he received in Britain. Watch his short film below.
Sir Anwar came to the UK from Pakistan aged 21, taking up employment as a bus conductor. He opened his first convenience store in Earls Court, West London in 1963, and over a decade later, Sir Anwar joined the cash and carry market, with the aim of offering his customers good service and value for money.
In his short film, Sir Anwar describes the UK as a tolerant and unbiased country; qualities, he says, that helped him to succeed. Living and working in a country that respects equal opportunities and fairness meant Sir Anwar could achieve his ambitions, and was able to work with and learn from others.
Sir Anwar talks about community values, earning respect, and working together with the people around him. He feels that the UK provided him with the support he needed when he was starting out. Sir Anwar says he has always felt respected, and has been treated equally since the day he arrived in the UK. He is proud of his contribution to British business and society, and of the opportunities that he has been granted in the UK.
In 1992, Sir Anwar was awarded Britain's highest national honour, the Order of the British Empire (O.B.E.) and in 1999, was made a Knight Bachelor for services to business and charity. Sir Anwar founded the Bestway Foundation Pakistan, which funds universities and hospitals, supporting small communities and helping young people through education. Sir Anwar is also a trustee of the Memorial Gates Trust, Crimestoppers and a supporter of the Duke of Edinburgh's Award.
"The secret of this country" says Sir Anwar, "is no matter what colour you are, what nationality you are you are treated as a human being; Indian, Pakistani, West Indian whatever. If you are on this soil you have equal opportunity for everybody."
Published 19 December 2011