Press release
Sir Alan Duncan statement on adoption of United National Security Council Resolution on Colombia
Foreign Office Minister Sir Alan Duncan welcomed the unanimous adoption of UN Security Council Resolution 2435 to support Colombia's peace process.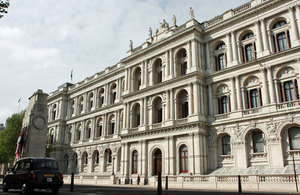 The Rt Hon Sir Alan Duncan MP, Minister of State for the Foreign and Commonwealth Office said:
Colombia has come a long way in the last year towards consolidating the peace process. This is clearly evident in the transition of the FARC to political party and the passing of the safest elections in decades. The approval of UN Security Council resolution 2435 demonstrates that Colombia has global support for its work to a safer, more stable and prosperous future for all citizens.

The UN Political Mission in Colombia has played a vital role in maintaining cooperation by all parties, encouraging them to work together to first end the violence and to go on building the peace. I welcome the UN Security Council's response to this request, made on behalf of both the Colombian Government and the FARC, to extend the UN Political Missions presence.

The UK is privileged to have worked closely with Colombia and with partners in the UN Security Council to ensure continued international support to Colombia's peace process, which continues to inspire others globally.
Further information
Published 13 September 2018