Press release
Simplified court fee waivers to save taxpayers £7m
Those who can afford to pay their civil court or tribunal fees will be expected to do so under plans unveiled today.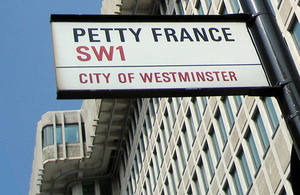 A consultation published today sets out proposals for fee remissions (waivers) for courts and tribunals which are better targeted, fairer for the taxpayer and easy for users to understand.
The remission system will continue to ensure access to justice is maintained for people on lower incomes who would otherwise have difficulty paying a fee, by providing the service free of charge or at a reduced rate.
The proposals represent a wide-ranging reform of the fee remissions system and are forecast to reduce the cost to taxpayers by £7m a year.
The main changes being proposed include:
Introducing a capital test - at the moment there is no capital test so people with low income but large capital don't have to pay towards courts and tribunal fees, meaning the taxpayer picks up the cost
Ensuring those who can afford to make a contribution to fees do so - the proposals will mean more contributions from those who can afford it and an income cap to stop high earners receiving remissions.
Making the remission system simpler – bringing in one unified system to cover the whole of the courts and tribunal system, replacing the complicated current arrangements, and calculating fee remissions using monthly salary figures rather than annual salaries so users have more accessible evidence.
Full fees remission for people on specific benefits – ensuring access to justice is maintained for those who cannot afford to pay a contribution to a civil court or tribunal fee
Courts Minister Helen Grant said:
'We need a better and more targeted system of court fee remissions so that those who can afford to pay towards their civil or tribunal case do so.
'I want to ensure that the taxpayer contribution towards fee remissions is targeted towards those who need it most'
The proposals also ensure that the system of remissions remains compatible with developments in welfare reforms.
The consultation will be open for a period of four weeks. The new system is proposed to be implemented by October 2013.
Notes to editors:
Read the Fee remissions for the courts and tribunals consultation.

The consultation proposes that fees will need to be paid: if your court fees are less than £1,000 and you have savings of more than £3,000, if the fees are less than £4,000 and you have savings of more than £8,000 or if the fees are more than £4,000 and you have savings more than £16,000.

For couples with no children the proposed income threshold is £1,245 a month - it was £1,500; for couples with one child it would be £1,490 - it was £1,745 - and for couples with two children it would be £1,735 - it was £1,990.

The proposals will not apply to the Immigration of Asylum Chamber (First Tier Tribunal) which has a separate remissions system.

For more information contact the Ministry of Justice press office on 0203 334 3536.
Published 18 April 2013