World news story
Simon Penney starts new role as HM Trade Commissioner
The UK's Department for International Trade welcomes Simon Penney as Her Majesty's Trade Commissioner (HMTC) for the Middle East, Afghanistan and Pakistan.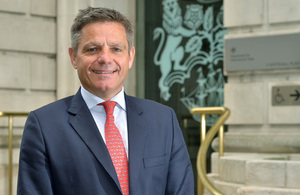 Appointed by the UK's Secretary of State for International Trade, Dr Liam Fox, the former banking chief executive becomes the most senior UK trade figure to be based in the region.
In this new role, Penney will drive the UK's trade and investment ambitions across the region, taking a leading role in efforts to boost export growth, 2-way investment and, increasingly open up markets. He will seek to help resolve market access barriers and create business environments, making Pakistan an attractive place for UK companies to do business. This further reinforces the UK government's commitment to increasing trade with Pakistan.
Deputy High Commissioner and UK Trade Director for Pakistan Elin Burns leads the trade team in Islamabad and Karachi. In September last year the Prime Minister appointed Member of Parliament Rehman Chishti as her trade envoy to Pakistan. He has visited Pakistan 3 times in that role. And now Simon Penney will lead the trade effort across the region. This is all part of the UK's strong commitment to increase bilateral trade.
Speaking of his role, new HMTC for MEAP, Simon Penney, said:
The UK's trading relationship with the region is already strong, but its true potential has not yet been tapped. We want to work in partnership with businesses and governments to identify opportunities for greater collaboration.

This could be in traditional sectors of energy and infrastructure, but also in sectors' which are key to transformation. Healthcare and life sciences, education, professional services and consumer goods are sectors where UK expertise has much to contribute.
The Acting British High Commissioner to Pakistan, Richard Crowder, said:
Simon Penney's appointment as Trade Commissioner for the Middle East, Afghanistan and Pakistan is a demonstration of the UK's commitment to boost the UK-Pakistan trade relationship. Last year our bilateral trade was almost £3 billion.

The UK has also overtaken China this year to become Pakistan's second-largest export market in goods globally, but we want to see more UK companies doing business in, and with, Pakistan.
Background
The UK's Department for International Trade (DIT) has overall responsibility for promoting UK trade across the world and attracting foreign investment to our economy. DIT is a specialised government body with responsibility for negotiating international trade policy, supporting business, as well as delivering an outward-looking trade diplomacy strategy.
Before his appointment as HM Trade Commissioner, Simon Penney spent many years in the banking sector with extensive experience leading corporate and financial institution groups and teams across, the Middle East, Europe, Africa and Asia.
Simon has held roles in the Middle East with First Gulf Bank and Royal Bank of Scotland, prior to which he was with ABN AMRO Bank in South Africa and the UK. He has also worked in consulting at PwC and in project finance.
All of the new HMTCs will cooperate closely with HM Ambassadors and High Commissioners, the wider diplomatic network, and other HM Government colleagues including Prime Minister's Trade Envoys, in countries in their region, in a joined-up and coordinated government effort overseas to promote UK trade and prosperity.
More information
For updates on the British High Commission and the Chevening Programme, please follow our social media channels:
Contact
British High Commission
Islamabad
tel. +92 51 2012000

Published 15 October 2018