News story
Simon Burns thanked for 'hard work and leadership'
Secretary of State for Transport Patrick McLoughlin statement.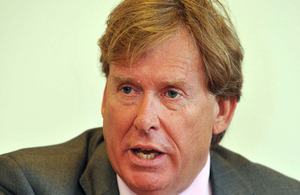 Following the announcement by Simon Burns that he would be leaving the department Transport Secretary Patrick McLoughlin said:
I'd like to thank Simon for his hard work, support and leadership during his time at the department. He has been instrumental in driving forward progress on HS2. He has also worked tirelessly to put the department's rail franchise programme on track, ensuring it delivers value for money for the tax-payer and supports the ongoing multi-billion pound investment in our railways.
Published 4 October 2013