Silicon Valley entrepreneurs and students welcomed to Number 11 by Chancellor
'Take this opportunity and go for it' George Osborne tells student entrepreneurs. 'Silicon Valley is backing you - and your government is too'.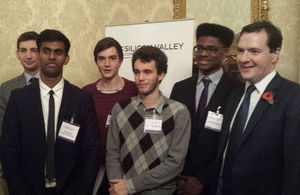 Chancellor George Osborne has welcomed student entrepreneurs along with representatives from Silicon Valley to a reception at Number 11 to celebrate the role that Universities play in stimulating entrepreneurship in the UK.
The winners of a students appathon organised by 'Silicon Valley Comes to the UK' were announced by the Chancellor at the event.
Winners of the appathon - a weekend-long event that sees students come together to build apps that solve real-world problems - included the creators of a "GetAways" app, which helps users find ways to escape from their hectic life, and the creators of an app which teaches you to play a musical instrument.
The 'Silicon Valley Comes to the UK' (SVC2UK) programme is a series of events that bring together early stage investors, successful serial entrepreneurs, students and alumni with leading Silicon Valley entrepreneurs and investors to discuss how they have come to create today's most disruptive technologies that aim to change our world.
Previous appathon winners, have also since won several prizes including Young entrepreneur of the year were also invited to the event.
Commenting on the event, Chancellor George Osborne said:
"Our economy relies on fast growing entrepreneurial companies with around 60 percent of jobs created in recent years coming from small fast growing businesses.
"It is vital that we continue to inspire our next generation of entrepreneurs and so I am delighted to see such innovation happening across our universities and welcome students to Number 11 to celebrate this.
"I hope that many of the winners will go on to grow their own successful businesses, driving innovation and creativity - and helping to drive economic growth in the UK."
Published 6 November 2013