World news story
Signing of the National Anti-Corruption Pact in DRC
From:

Part of:

Published:

9 December 2013
This was published under the 2010 to 2015 Conservative and Liberal Democrat coalition government
On 9 December 2013, representatives of the public sector, private sector and civil society signed DRC's National Anti-Corruption Pact.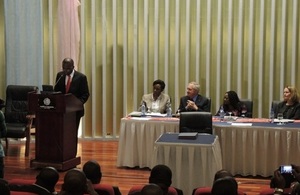 On 9 December 2013, International Anti-Corruption Day, the DRC's Prime Minister Matata Ponyo and a number of cabinet ministers, representatives of the private sector and civil society came together for the signing of DRC's Anti-Corruption Pact (MS Word Document, 499KB) (French version).
This is a tri-partite Pact which will commit the parties to refrain from corruption, instil ethical values in their organisations, and adhere to the principles of integrity, good governance, respect and transparency. It commits the parties to establishing an anti-corruption forum to serve as a platform for communication and coordination between stakeholders, and to launch a national campaign against corruption. The Pact will also provide a mandate for sanctions for parties violating it, and establish an independent monitoring process.
In her speech, Ambassador Corner highlighted UK Prime Minister David Cameron's Trade, Tax, and Transparency agenda through the UK Presidency of the G8 this year. She stressed that reducing corruption and increasing transparency were essential to economic prosperity.
Quoting the Joint UK Ministerial statement on International Anti-Corruption Day, Ambassador Corner said:
When corruption happens in developing countries, it is the very poorest people who foot the bill.
The Ambassador called upon all stakeholders to seize the historic opportunity which the Pact presented for the future of the DRC. The full version of the speech in French is available here (MS Word Document, 21.8KB) .
In his address, Prime Minister Matata said:
The signing of the Anti-Corruption Pact involving the public sector, the private sector and civil society, while being symbolic, signals the beginning of joint efforts aimed at fighting this evil.

Corruption has for a long time weakened our institutions, undermined our efforts to improve economic governance, plagued our society and stood as an obstacle to economic growth.
The signing of the Pact is the culmination of a process which the UK has been supporting since 2009, including a seminar hosted by the Embassy in December 2012 to draft the anti-corruption pact, and, most recently, a workshop to finalise it in October 2013.
An anti-corruption forum will now be established in order to take the Pact forward. The UK will continue to support its implementation along with further work to fight corruption.
Document information
Published: 9 December 2013