World news story
Signing of Memorandum of Understanding
Talking points from the British High Commissioner on the Signing of MOU Between Parliament of Ghana and Westminster Foundation for Democracy.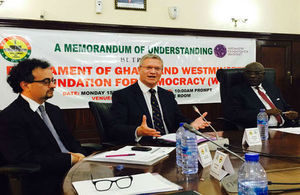 The UK Government is committed to helping enhance Ghana's efforts to deepen its democratic transformation, recognising that each election cycle presents new challenges, which mandated institutions are required to respond to, in the interest of citizens.
The UK has been steadfast in its support and the Westminster Foundation for Democracy Programme entitled: "Improving Accountability and Transparency in the Parliament of Ghana Through Better Research and Policy," which we are launching today is a further demonstration of our strong interest and commitment. The Programme aims to enhance research functions and improve the way political parties operate within the Ghanaian Parliament. The Programme, which runs to 2018, will also utilise UK-Ghana sister-party relationships.
This Programme builds on our existing Deepening Democratic Governance Programme which already offers up to £4 million to the electoral process, recognising that delivering peaceful and credible elections require a strong effort from a range of accountability institutions and also civil society organisations, which we are supporting separately through our STAR Ghana Programme, in partnership with the EU and Denmark.
The UK sees the Ghanaian Parliament as a key strategic partner, which must play a critical oversight role in strengthening accountability and increasing transparency. We all recognise that much work is required in these areas to properly represent the rights and interests of citizens. Whilst we are all currently focused on the forthcoming elections, it is important to emphasise that it is not just about the winning of elections, but rather how those elected govern and represent voters after elections. We therefore welcome the desire and ability of Parliamentarians and their hard work in influencing national development and reform agendas, to help keep Ghana on track.
Thank you very much.
Published 2 August 2016