Sierra Leonean army comes of age under British direction
Six years ago, Sierra Leone was a failing state receiving assistance from 10,000 United Nations troops. Now, with the republic's growing stability and the assistance of British military mentors, its armed forces could soon be part of a UN force helping to keep the peace in Sudan. Report by Joe Clapson.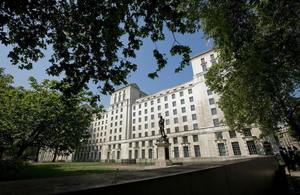 Just one minute watching the professional instructions of a Sierra Leonean soldier teaching a fresh batch of recruits spoke volumes about the progress of a nation.
In 2000 the West African state was close to being overthrown by the Revolutionary United Front and its army was considered to be a rabble of unorganised rebels.
But now, after nearly ten years of mentoring by the International Military Assistance Training Team (IMATT), the Republic of Sierra Leone Armed Forces (RSLAF) are a respected organisation attracting global attention.
"Sir, yes sir," came the synchronised response from the next generation of African peacekeepers to their instructor prior to a demonstration platoon attack.
Dressed in British camouflage and speaking English, the future soldiers at Benguema's Armed Forces Training Centre (AFTC) would not have looked out of place on a UK exercise ground.
Taking shelter from the sweltering heat, Colour Sergeant Mark Beaton of the Royal Welsh, an IMATT advisor at the facility, explained how his job no longer requires hands-on teaching:
We let Sierra Leonean instructors run things on their own and we speak to them at the end of the lesson to advise and mentor," said the British senior non-commissioned officer.

For example, rather than simply take over or tell a RSLAF instructor what to do, I might suggest that he projects his voice to the whole group and makes sure he wears his headdress, uniform and webbing correctly while teaching.

Eventually these guys will take on the whole military role.
Under the stewardship of its UK leaders, the IMATT has modelled the AFTC on Catterick's Infantry Training Centre and the Royal Military Academy at Sandhurst.
Graduating personnel either move on to the platoon commander's course or to Phase Two training to learn a trade, before eventually joining their full-time units.
The long-term plan, which is already bringing success, is to build a skilled RSLAF capable of carrying out its country's defence missions and contributing to internal and regional stability.
Speaking about the relationship between IMATT advisors and their Sierra Leonean colleagues, Corporal Festus Tiafoy - a RSLAF instructor at Benguema - said:
If we are unsure of something we go to the British soldiers and they advise us. They are experienced and very helpful. I will ask a question and use the answer next time. I never make the same mistake twice.
When the IMATT was established in 2002, its servicemen and women were tasked with turning armed civilians with tribal instincts into professional, apolitical troops:
Sierra Leonean soldiers used to wear mirrors because they believed they would deflect bullets - the man with the biggest mirror was the RPG [rocket-propelled grenade] deflector," said one officer. "When men were killed, their colleagues believed it was because 'the enemy's magic was much better'.
Today, the troops train and operate in the same manner as their British tutors.
RSLAF personnel have also been given general purpose machine guns and self-loading rifles, as used by UK forces prior to the introduction of the SA80.
Sierra Leone's Defence Minister, Alfred Palo Conteh, pointed to the RSLAF's United Nations mission in Darfur as evidence of the organisation's swift progression:
Just ten years back we were an almost failed state and now we are stable enough to help others - that is a real achievement," said the British-trained barrister.

I have just got back from Darfur and things are going really well. Once we get our feet under the table there we would like to send a full battalion.
Major Andy McIntyre, Officer Commanding the Infantry Training and Advisory Team, added:
You would've laughed six years ago if we said a place receiving assistance from 10,000 United Nations troops would be helping in Sudan by 2011, but that's what's happened.
The success story continues with Horton Academy - commonly called 'the jewel in RSLAF's crown' and based at IMATT HQ - where talented officers can study to advance their military careers.
The educational centre is Sierra Leone's equivalent to the UK's Shrivenham and is now firmly on the international radar due to its growing reputation.
Captain Patrick Woods, a Canadian instructor at the academy, said:
The 18-week junior staff course can cater for up to 54 students who have usually served for seven to ten years.

It's well-equipped with laptops and purpose-built classrooms and it's on a par with anything in the UK or Canada.
British personnel working with the IMATT have built a solid foundation for the RSLAF to improve upon.
And Sierra Leonean soldiers seem determined to put their education to good use, both on home soil and in support of their African neighbours.
**This report by Joe Clapson was first published in the April 2011 issue of Soldier - magazine of the British Army. **
Published 6 April 2011