World news story
British High Commission Supports PPP Training in Sierra Leone
Public-Private Partnership Workshop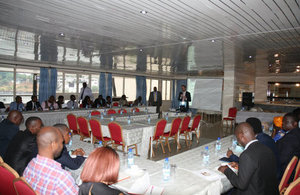 The British High Commission in collaboration with the Public Private Partnership (PPP) Unit in the Office of the Chief of Staff within State House, British Expertise and the Law Society of England & Wales ran a two-day PPP workshop for policy makers, legal practitioners, procurement specialists, and key actors within the private and public sectors. on 21-22 January 2016 at the Sierra Light House Hotel in Aberdeen, Freetown.
The workshop, entitled "Public Private Partnerships: Strategies, Methods & Project Structuring Techniques", was designed by some of the most experienced practitioners in the world and was delivered by two UK specialists working in the PPP environment, alongside colleagues from the PPP Unit.
Speaking at the opening address, the Deputy High Commissioner, Paul McGrade, emphasised the role of private sector finance in the delivery of the Government's six post-Ebola recovery priorities, which the UK supported. He highlighted the potential for PPPs to "create a partnership approach that can bring in investment" and he hoped the workshop would "identify practical ways of improving the business environment, in which partnership with private sector investment can be made more attractive".
Coordinator of the PPP Unit in the Office of the Chief of Staff, Abu Kamara, said that he was pleased that the workshop was able to convene so many professionals from the public and private sectors. He said that the Government was beginning to use PPPs more effectively in Sierra Leone and he hoped that "the PPP best practice concepts discussed at the workshop can be implemented to help the Government and the private sector deliver services more efficiently and lead to positive changes in the country".
The pressing need for infrastructure development and services across Africa has focused increasing attention on the use of PPP models to secure investment and expertise. Successful PPP works when there is a sufficient legal and regulatory framework, a sound understanding of the risk and potential rewards, and a realistic understanding of the market.
The programme gave attendees a firm understanding of what they need to know to take an active role in effective PPP projects. The programme utilised case studies from Sierra Leone, Africa and beyond to facilitate discussion and helped generate lessons that could be learned to strengthen future PPP planning and implementation in Sierra Leone.
Published 26 January 2016