The DFID-funded project inspires around five million young Kenyans to take action to improve their lives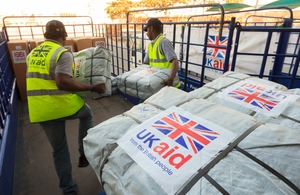 DFID-funded Shujaaz.FM wins International Digital Emmy Award
Tonight Shujaaz.FM was awarded the International Digital Emmy® Award in the Digital Program: Children & Young People category - beating some of the giants of international media.
This Emmy is awarded to honour excellence in programming and content created and designed for viewer interaction and/or delivery on a digital platform.
Rob Burnet, the social entrepreneur responsible for Shujaaz, said:
"We are so proud to have won the Digital Emmy for children and young people's content.
"It's a great recognition for all the hard work our young team of creative Kenyans have put into making Shujaaz the success it is.
"We use multiple-media communications to inspire and motivate an audience of some 5 million young Kenyans to take action to improve their lives and engage with urgent issues that shape their future. This is done through stories following the lives of four fictional young Kenyans. 
"Shujaaz means 'heroes' and first amongst them is DJ Boyie. Boyie is 19 and unemployed and, like all good comic book heroes, he has a secret. In the comic he hacks into FM radio stations and broadcasts Shujaaz.FM. This story device helps to create a credible parallel universe and means our stories move seamlessly between print, radio and social media."
The UK Minister for International Development, Alan Duncan MP said:
"I am a great fan of Shujaaz. I love their high spirits and enthusiasm. The idea for Shujaaz was a direct response to the post electoral violence in 2007. The founder, Rob Burnet, saw how young people had been manipulated by their leaders to do terrible things. He wanted to harness their energy in positive ways.
"Winning an Emmy after just two years is an extraordinary achievement for the young team that produces Shujaaz. The UK government is proud to have played a role in helping establish this force for good."
Shujaaz.FM produces and distributes 500,000 free monthly comic books, radio shows - 6 days a week syndicated to 23 FM stations across Kenya, a dedicated SMS interface, facebook - updated by the comic book heroes and interacting with the audience, a website and Shujaaz.TV broadcast on YouTube.
Published 1 April 2012