News story
Showcasing UKCES's work with industry at the first Offsite Construction Show
UKCES and our 5 project partners from the offsite construction industry are attending the Offsite Construction Show on October 14 and 15. We will be showcasing our learning on new ways of overcoming the skills barriers that are holding back growth in the sector.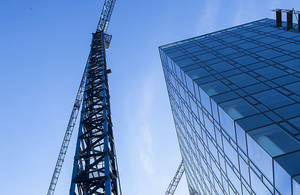 The Offsite Construction Show, held at ExCel London, is the UK's first exhibition focused on offsite solutions for all markets. The event is being hosted by Buildoffsite, one of our project partners. There will be a UKCES stand throughout Wednesday 14 and Thursday 15 October, showcasing the valuable learning and insights that have been gathered from 5 employer-led projects. These projects brought together offsite construction employers and partners to address skills gaps, by improving collaboration and providing better training opportunities for both new and existing workers.
Our seminar A 10 year change programme: Developing our skills for the challenges ahead will be in Seminar Hall 2 from 11am Thursday 14 October. We'll be sharing what we have learnt from our 5 pilot projects on tackling skills shortages in the offsite construction industry. In each of these projects our partners were able to develop various products which have the potential to achieve real change in the sector, and demonstrate the importance of sectoral collaboration. This was the first Productivity Challenge in our UK Futures Programme (UKFP) – an ongoing initiative which co-invests with business and other partners to develop and pilot innovative solutions to long-standing or emerging workforce development issues.
Dr Bill McGinnis CBE will be chairing a panel which includes representatives of the organisations who were involved in these projects - Prof. Bernard Williams, IFPL Ltd; Oliver Rogan, Hadley Steel Framing; Dr. Robert Hairstans, Edinburgh Napier University; Rob Francis, Skanska; Alan Clucas, Laing O'Rourke. Attendees will benefit from their insights and well as a first look at our brochure detailing the project's achievements and lessons, which we will be releasing in full next week.
If you are attending the show do come and ask us about UKCES's work at our stand or attend the seminar on Thursday. If you aren't able to attend, we will be livetweeting: you can follow updates on our Twitter feed @ukces or via the hashtag #OSCS15.
Published 14 October 2015