World news story
Shorter reiterates ongoing UK support to Lebanon
Ambassador Shorter reiterated the UK's continued support to Lebanon and hopes more women candidates are considered by political parties in upcoming elections.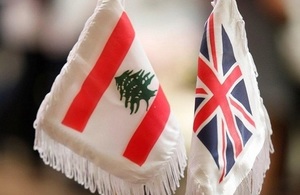 British Ambassador Hugo Shorter met with Foreign Minister Gebran Bassil this morning.
Following his meeting Ambassador Shorter said:
I was pleased to meet Foreign Minister Bassil and to discuss upcoming international conferences for Lebanon's security and prosperity.
The UK is one of the biggest supporters of Lebanon in terms of our aid contributions and security partnership, and I look forward to this continuing in the framework of UN Security Council Resolutions and statements of the International Support Group for Lebanon.
We also discussed the upcoming elections, and I was pleased to hear from Minister Bassil that they remain on track to happen on 6 May as planned. I discussed with Minister Bassil as leader of the Free Patriotic Movement the importance of including a large number of women candidates on the party's lists, to ensure increased representation of women in parliament, something which I know many Lebanese are hoping for, and was pleased that Minister Bassil was of the same view.
Published 15 January 2018