World news story
Shorter meets Deryan to spread the message of interfaith dialogue
British ambassador to Lebanon Hugo Shorter visited Grand Mufti AbdelLatif Deryan to congratulate him on the occasion of Eid el Fitr.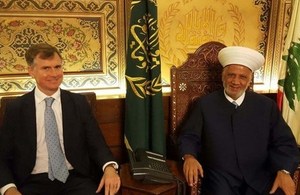 After meeting with Grand Mufti AbdelLatif Deryan ambassador Shorter said:
I came today to offer my best wishes to his eminence Mufti Deryan for Eid el Fitr. The holy month of Ramadan was a time for reflection on the importance of tolerance, diversity, and accepting others, regardless of religion, race or background. I think no country in the region embodies this better than Lebanon, and religious leaders like Mufti Deryan have a key role to play in spreading this message and setting an example of interfaith dialogue.

I assured Mufti Deryan that although leaving the EU is a fundamental change for the UK, all other fundamentals remain in place. We continue to stand by your side supporting Lebanon's stability, security and prosperity. Our efforts with our Lebanese partners continue – with the Lebanese Armed Forces, the Internal Security Forces, the Ministry of Education, the Central Bank, and many others. We stand by Lebanon's side in confronting the scourge of terrorism, defending its borders, promoting jobs and livelihoods, expanding access to education and managing the impact of the Syrian civil war.
Published 14 July 2016