Press release
Sheppey Crossing: safety upgrades announced
A package of safety improvements for the A249 Sheppey Crossing in Kent has been announced by Highways England today (Wednesday 14 December).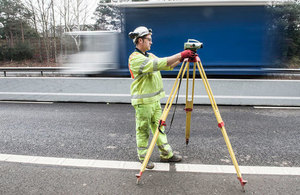 Following a thorough, independent review of the Sheppey Crossing's safety, Highways England will be delivering a package of improvements, which includes improved road markings and illuminated road studs and installing average speed cameras to enforce the national speed limit.
In the longer term better fog detection and warning systems will be installed including the installation of new variable message signs.
Highways England divisional director for the south east, Simon Jones said:
Safety is Highways England's top priority. Following a thorough, independent review of its safety, we have decided to reinstate the national speed limit on the Sheppey Crossing. 70mph is a safe speed for the bridge, but there are a minority of drivers who ignore the speed limit whatever it is, which is why we are introducing average speed enforcement over the bridge at the same time.

We are taking other steps too like better signage and illuminated road studs, all of which will be in place when the speed limit change happens in the spring. And in the longer term we are looking at fog detection and warning systems and variable message signs to improve safety further still. And throughout, we will continue to keep safety on the Sheppey Crossing continually under review.
The 50mph speed limit was introduced in July 2015 after the coroner investigating a serious incident on the crossing in July 2014 asked Highways England to consider urgent safety measures on the bridge, which is the main link between the M2 at Stockbury and Sheerness.
Average speed cameras will be used by the Kent & Medway Camera Partnership to enforce the national speed limit across the Sheppey Crossing.
The 50mph speed limit had been put in place in both directions on the A249 between its junction with the B2005 at Grovehurst Road and the Neats Court roundabout near Thomsett Way.
The speed limit was carefully assessed to monitor its effect on road safety and found to increase the risk of incidents due to the wider differences in drivers' speeds. Highways England will continue to keep the safety performance of the A249 under constant review.
The package of improvements is due to be delivered by spring 2017.
General enquiries
Members of the public should contact the Highways England customer contact centre on 0300 123 5000.
Media enquiries
Journalists should contact the Highways England press office on 0844 693 1448 and use the menu to speak to the most appropriate press officer.
Published 15 December 2016