Press release
Shape the future of flood risk management in your community
The Environment Agency, local councils and partners are inviting residents to a series of community drop-in sessions across Cumbria.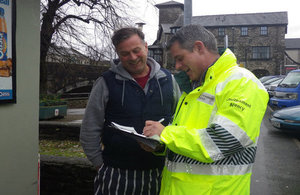 The drop-in sessions provide an opportunity for local people to inform flood risk management in their community by providing information on their experiences. This will help identify the extent and cause of local flooding and inform recovery work. It's also an opportunity to ask questions, raise concerns and access information about funding and support.
Dan Bond, Environment Agency manager, said:
You can't underestimate the devastating impacts of flooding to people's lives. The key to recovering quickly, and increasing our flood resilience in the long term, is to listen to the people who experienced it first-hand and learn from their experiences.

We've been visiting affected communities since the flooding began in early December, and these drop-in sessions are the start of a more coordinated approach to involving local people in the development of local flood risk management plans.

We would encourage anyone affected by flooding to come along and talk to us. We will have technical experts from the Environment Agency and county council available to chat to, with support from a number of agencies that can provide advice and support.
The first drop-in sessions, detailed below, will be held in a mobile trailer with further meetings to be scheduled soon to coincide with parish council meetings, dates to be confirmed:
Appleby: Moot Hall car park, 11am to 6:30pm on Wednesday 13 January 2016.
Carlisle Warwick Road: Brunton Park car park, 11am to 7pm on Thursday 14 January 2016.
Carlisle Caldewgate: Sainsburys car park, 11am to 7pm on Friday 15 January 2016.
Rickerby village: 11am to 1pm on Friday 16 January 2016.
Low Crosby: The Garth, 11am to 2pm on 19 January 2016.
Warwick Bridge: Downagate community centre car park, 3pm to 5pm on 19 January 2016.
Kendal: Gooseholme, 11am to 7pm on 20 January 2016.
Kendal: Market Place, 11am to 7pm on 21 January 2016.
Burneside: outside convenience store, 11am to 2pm on 22 January 2016.
Keswick: Greta Gardens, Keswick Recovery Centre, 4pm to 7:30pm on 22 January 2016.
Eamont Bridge: village hall, 11am to 2pm on 23 January 2016.
Ambleside: location TBC, 10am to 1pm on 26 January 2016.
Grasmere: location TBC, 2pm to 6pm on 26 January 2016.
Braithwaite: location TBC, 10am to 1pm on 27 January 2016.
Cockermouth: town centre 11am to 2pm and Gote Rd 3pm to 6pm on 28 January 2016.
Pooley Bridge: location TBC, 10am to 1pm on 29 January 2016.
Howtown – Glenridding: location TBC, 2pm to 5pm on 29 January 2016.
Patterdale & Hartsop: location & time TBC, 30 January 2016.
Flimby & Maryport: location TBC, 11am to 3pm on 30 January 2016.
For more information on their flood risk, members of the public can call the Floodline number on 0345 988 1188 or on GOV.UK.
Published 8 January 2016