World news story
Happy 90th Birthday Your Majesty!
British Embassy in Beirut celebrated two of the UK's most widely celebrated icons: Her Majesty Queen Elizabeth II and William Shakespeare.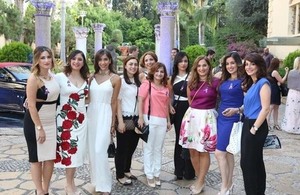 True to its yearly celebrations of The Queen's Birthday Party, the British Embassy in Lebanon celebrated on Wednesday 1 June, two of the UK's, and indeed the world's, most widely recognised and celebrated icons: Her Majesty Queen Elizabeth The Second 90th Birthday and William Shakespeare's 400 year legacy at Moawad Museum.
Attended by their excellencies MP Yassin Jaber, Defence Minister Samir Moqbel representing Speaker Nabih Berri and PM Tammam Salam. More than 600 guests enjoyed the charming Shakespearean themed venue and entertainment as they listened to ARTON string quartet, and heard the tunes from the Jazzmine Trio Band enchanting the guests with beautiful classical and modern songs.
This year's special guest, Lynn Hayek, sang the national anthems of Lebanon and Britain with a round of applause from the guests which included current and former MPs, ministers, ambassadors, business leaders, representatives of the British community in Lebanon, civil society, media, and others.
Addressing the QBP guests British Ambassador Designate Hugo Shorter said:
Tonight's 'Midsummer Night's Dream' is a rendezvous with two of the UK's, and indeed the world's, most widely celebrated icons: Her Majesty Queen Elizabeth The Second - whose 90th Birthday it is – and William Shakespeare who still lives amongst us 400 years on.

The Queen's service to her country has been extraordinary. Quoting from Shakespeare, Prince Charles said in tribute to his mother: "She shall be, to the happiness of England, An aged princess; many days shall see her, And yet no day without a deed to crown it.'

For his part, with 37 plays, 154 sonnets and a vocabulary of 30,000 words, Shakespeare still guides us through the labyrinth of human nature, of love and hatred, greed and self-sacrifice, fair play and foul. In fact Lebanon must have been one of his muses! To use his words, you have learned that "all that glitters is not gold." When political stalemate feels "dead as a doornail", or security makes your "hair stand on end", Lebanon manages to "escape the jaws of death", many times.

I'm proud to be the UK's Ambassador to Lebanon. I am often thanked for the UK's support. But the fact is that the best of what we do is done in partnership with you, the Lebanese. We really are stronger together. Nonetheless, I have no doubt that Lebanon could achieve even more. It was fantastic to see election fever sweep the country this last month; I hope that election fever will spread to Parliament and Presidency.

I've not yet been here a year, but I've been overwhelmed by the kindness and generosity of the Lebanese toward me and my family. To quote the bard one last time, you have a "heart of gold" – and you "wear your heart on your sleeve.
The QBP reception was made possible thanks to the generous contribution of our sponsors: Land Rover and Aston Martin, HSBC, BCTC, DG Jonesو UK Lebanon Tech Hubو and Unilever, Allo taxi, Diageo and G4S.
Published 6 June 2016