News story
Shailesh Vara opens new Legal Services Board offices
Justice Minister Shailesh Vara has officially opened the new offices of the Legal Services Board (LSB).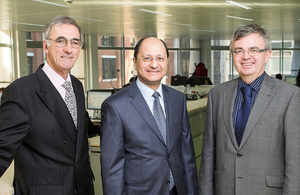 The LSB has moved to the new premises in Kemble Street, London, after five years at its original site in Southampton Row, London.
The organisation was established in 2008 to be the independent oversight regulator for the legal profession. It is funded through a levy charged to the legal sector and is responsible for overseeing professional standards in the industry.
Speaking at the official opening ceremony today Justice Minister Shailesh Vara said:
'The UK's legal services are the best in the world and I want to see their reputation and impact continue to grow.
'The success is down to the hard work of everyone in the sector, and I congratulate the board and staff of the LSB for the crucial role they have played over the last five years – particularly encouraging changes to the market through new and innovative business models.
'It is a pleasure to open these new offices and I wish the LSB well in their new home.'
Published 21 January 2014