Shadia Mansour on creative freedom in Britain
In a short film launched today, the British born Palestinian singer discusses what it means to her to be able choose her own path, and the support she's received in the UK.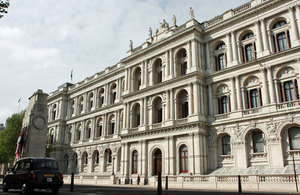 The film is one in a series featuring individuals from home and abroad talking about their experiences of modern Britain in the run up to the London 2012 Olympic and Paralympic Games. Shadia Mansour is a leading female Arab MC. She began singing at the age of five, and has featured on tracks with 'The X-Vandals', Olkinary (French rapper) and DAM (a Palestinian Rap group), among many other artists. Watch her short film below.
In the film, Shadia talks of her pride in being able to "walk comfortably as an Arab in Britain", where her culture is celebrated. She discusses the privilege of having freedom, and what it means to her to be able to choose her own path, and do what she does with no restrictions.
Shadia chooses to rap in Arabic to claim her identity as a Palestinian in the diaspora. She feels that British society and Britain as a whole have been a support to her and her career. After an amazing experience performing her songs live in Palestine, where she felt she was "taking the songs home", she appreciated all the more the freedom of speech and expression that she enjoys in the UK on her return.
Shadia has opened for Busta Rhymes and Mobb Deep at the Palladium Club in New York, and has toured the United States, receiving a tremendous welcome in Chicago, Milwaukee, San Francisco and Los Angeles. She also took part in the Annual Pre Black August Concert in New York with DJ Johnny Juice alongside her, and performed in Holland in a four-city tour, with an orchestra of 200 people and a choir of 50 children.
She has opened the Annual Black August Benefit for Political Prisoners, alongside major hip hop legends such as Q-tip, EPMD, Bilal, Blackmoon, Smif N Wessun and Immortal Technique, and headlined the Arab World Fest in Milwaukee, USA.
Published 23 November 2011