Press release
Seven drivers a week run out of fuel on Manchester smart motorway roadworks
Drivers urged to check their fuel levels before setting out on their journeys.
This news article was withdrawn on
This document is no longer current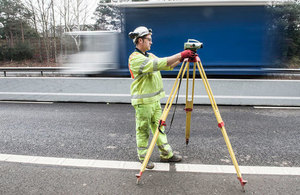 Drivers are being urged to check their fuel levels before setting out on journeys after figures revealed that an average of one driver a day is running out of fuel on the Manchester smart motorway roadworks.
In the past 12 months, 354 drivers have let their tanks run dry on the 17 mile route between junction 8 of the M60 near Sale and junction 20 of the M62 near Rochdale, which Highways England is upgrading to a smart motorway.
Electronic message signs are being used at key points on the motorway to remind people to fill up, and drivers are being advised that there are petrol stations within half a mile of most motorway junctions as well as at Birch Services.
Highways England has also released CCTV footage showing a driver running out of fuel on the M60 between junctions 15 and 16 near Salford to show the impact it can have on other drivers.
Highways England Programme Manager Stephen Hill said:
Running out of fuel is the easiest cause of breakdown to avoid and some simple planning can save drivers the hassle of coming to a halt on the motorway, causing disruption to hundreds of other drivers.

We're asking all drivers to help us reduce the number of incidents within the roadworks section by checking their fuel when there is still an opportunity to top up, and checking their vehicle is roadworthy.

Sitting at the head of a queue of unhappy drivers while you wait to be rescued is not an experience that people wish to repeat.
Since March 2015, there have been 4,694 breakdowns on the smart motorway route around Manchester. Alongside the usual electrical and mechanical failures, the free recovery service also attended 24 cases of wrong fuel.
Congestion can quickly build behind stationary vehicles as this second video shows.
The roadworks are monitored with CCTV, and a free recovery service is operating along the route while the smart motorway is being built. The service tows vehicles to a place of safety, where drivers must arrange their own full recovery. A total of 15 recovery vehicles are available 24 hours a day, helping drivers and ensuring all traffic can get moving again as quickly as possible.
The £202 million smart motorway project will see the latest technology being used to monitor traffic levels and keep vehicles moving by using variable speed limits. The hard shoulder is also being permanently converted into an extra lane to increase capacity between junctions 18 and 20 on the M62.
When the smart motorway scheme is completed in autumn 2017, around 200 new electronic message signs on overhead gantries will warn drivers of changes in the mandatory speed limit, lane closures and incidents ahead.
To stay up to date with the latest developments visit the scheme website.
General enquiries
Members of the public should contact the Highways England customer contact centre on 0300 123 5000.
Media enquiries
Journalists should contact the Highways England press office on 0844 693 1448 and use the menu to speak to the most appropriate press officer.
Published 11 April 2016