Setting the benchmark for transparency in social housing
Housing Minister Grant Shapps today (14 February 2012) praised the latest social landlord to open its books and become more transparent to tenants…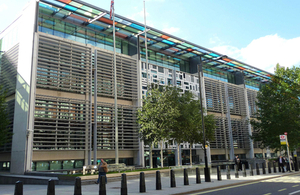 Housing Minister Grant Shapps today (14 February 2012) praised the latest social landlord to open its books and become more transparent to tenants.
The Minister said Viridian's plans to publish all expenditure over £500 from April this year would not only make them more accountable to their tenants, but would also help them increase efficiency.
Mr Shapps used the announcement to call on other housing associations to follow the example of Viridian and Home Group.
Since becoming Housing Minister, Mr Shapps has consistently challenged all social landlords to match his Department's commitment on transparency.
The Coalition believes that all organisations in receipt of public money can achieve better value for money when they ensure that transactions are open to real scrutiny. 
Mr Shapps said social landlords would be left behind if they failed to acknowledge the growing demands of tenants to see how their rent is being spent and that it was time to meet those expectations.
Over the next few months officials from the Department for Communities and Local Government will hold a series of discussions with individual housing associations to discuss how they can become more transparent in the way they run their business.
Housing Minister Grant Shapps said: 
Housing associations have a long and distinguished track record of providing the affordable homes that millions of tenants rely on. But with more pressure on the public purse than ever, all organisations that receive money from the taxpayer should expect to come under greater scrutiny. It should feel entirely natural to be willing to explain their financial decisions.  
"So I'm delighted that Viridian, like Home Group before them, has taken this key decision to become more transparent for their tenants. Nowadays transparency is not just a nice-to-have add-on, it's vital for driving down costs and ensuring more is achieved with every taxpayers' pound. Large amounts of public money have been invested in social housing - so tenants and the public now deserve to know if their money is being well spent."
Ministers have been alarmed that the sector has been too slow to respond to the public demand for openness and believe bringing housing associations under the Freedom of Information Act could make it easier for tenants and the public to find out more about how their landlords work.
The Government has committed to consult with social landlords on whether to extend the scope of the Act to include housing associations. 
Published 14 February 2012