Serbia v Northern Ireland
Northern Ireland are playing Serbia at the Red Star Stadium on 25 March.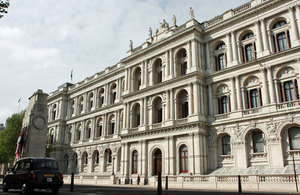 The EURO 2012 qualifier between Serbia and Northern Ireland on 25 March will be played behind closed doors at the Red Star 'Marakana' stadium in Belgrade.
Fans going to the match can find information and advice on our travelling football fans page.
You can also view our latest travel advice for Serbia.
Things to remember
Only fans with tickets issued by the Irish Football Association should travel to the stadium. Supporters without tickets should not go to the stadium as they will not be admitted
You will be searched prior to entering the stadium and items that could potentially be used as missiles will be confiscated, such as lighters or large amounts of coins
If you hold a valid British passport, you don't need a visa to travel to Serbia. The validity of the your passport must cover the duration of your visit (preferably 6 months beyond your stay)
You should take out comprehensive travel and medical insurance before you travel
You should carry identification at all times
Published 22 March 2011