Sentences increased for 'callous' gang which defrauded vulnerable victims
Gang of builders jailed for forcing elderly people into unnecessary repairs have their sentences raised.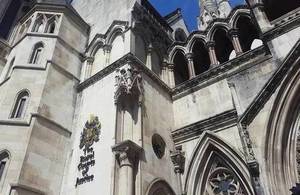 Today the Court of Appeal increased the sentences of 4 men who, from August 2007 to July 2010 defrauded elderly and infirm people out of considerable sums of money - often their life savings - by pretending that their properties needed urgent repairs.
The Attorney General, Dominic Grieve QC MP, applied to the Court of Appeal for permission to refer these sentences as unduly lenient, arguing they did not reflect the overall criminality and impact on victims.
Thomas Connors Senior, Thomas Connors Junior, Karl O'Hara, and Lawrence Newbury were part of a sophisticated and well-run conspiracy. The costs would escalate as further supposed problems with the properties were identified. Sometimes the offenders damaged the property themselves; sometimes the victims were intimidated and threatened until they handed over money.
The 4 had pleaded guilty earlier this year and were sentenced to terms of imprisonment ranging from 26 weeks suspended for 12 months, to 4 years. These were today raised by between 1 to 2 years each. The sentence of John Connors, who was also charged and pleaded guilty with them, was referred but left unchanged.
After appearing in person at court, the Attorney General welcomed the judgement:
This was a callous and well-organised nationwide conspiracy to defraud, which was deliberately targeted at the vulnerable, and in particular the elderly. There were many aggravating factors and the sums of money defrauded could not tell the whole story alone. The loss of savings of £2,000 can be just as devastating as £20,000 to another victim.
Published 15 September 2011