Press release
Sentence increase for man who subjected child victim to years of sexual abuse
Sentence increased by 4 years for Sheffield child abuser, Usmaan Ahmad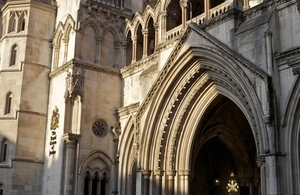 A man who repeatedly sexually assaulted a young girl over a period of years has had his sentence increased after the Solicitor General, Robert Buckland QC MP, referred it for being too low.
Usmaan Ahmad, now 35, repeatedly sexually assaulted his victim over a period of 8 years, while she was between the ages of 3 and 11. Ahmad was between the ages of 14 and 21 at the time. The effect of these crimes has been lasting and severe, causing ongoing psychological struggles.
Ahmad was originally sentenced to 4 years and 6 months imprisonment at Sheffield Crown Court. Today, after the Solicitor General's reference, the Court of Appeal increased his sentence to 8 years and 6 months in prison.
Commenting on the sentence increase, the Solicitor General said:
I am pleased that the Court of Appeal has agreed that Ahmad's sentence should have been higher. He subjected a vulnerable child to consistent and repeated sexual abuse which has had a lasting impact. I hope this decision can bring some comfort to the victim.
Published 11 May 2018