World news story
Senior UK tax delegation visits the UAE
Senior UK tax official visits Dubai, pays tribute to significant support from UAE law enforcement partners.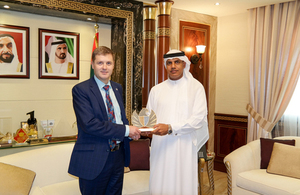 A senior delegation of the United Kingdom's tax authority HM Revenue and Customs (HMRC) is meeting with UAE law enforcement partners in Dubai this week. Mr Simon York, Director of HMRC's Fraud Investigation Service, is joined by members of his Senior Management Team; Mr Alan Tully, Head of HMRC's Priority Criminals unit, and Mr Kevin Newe, Assistant Director of Proceeds of Crime.
Mr York will be meeting with senior officials from Dubai Police, Customs, Immigration and the Department of Public Prosecution to discuss issues of joint interest, including fraud, money laundering and smuggling. It is hoped the visit will further strengthen the joint efforts of the UK and UAE to combat organised crime and tax evasion, continuing the positive and productive alliance between both countries.
Earlier this year, The General Directorate of Residency and Foreigners Affairs (GDRFA), Dubai Police and the Department of Public Prosecution helped secure the deportation to the UK of one of Britain's most wanted criminals, Mr Geoffrey Johnson. Mr Johnson had been found guilty of money laundering but fled the UK before trial, eventually attempting to enter the UAE illegally in August this year.
As a result of his criminal activities, Mr Johnson owes the UK £109 million and HMRC is working with UK partners to recover the proceeds of crime, but the deportation shows the importance and operational value of international cooperation.
Simon York said:
HMRC and our partners in the UAE law enforcement community are working closely to tackle crime and to ensure that any UK criminals operating in Dubai are returned to the UK to face justice. I would like to pay tribute to the significant support offered by colleagues in Dubai – the UAE has proven it is no sanctuary for UK criminals.

Particular thanks and appreciation are given to Major General OBaid Bin Suroor and his team; Director General Dubai Customs His Excellency Ahmed Mahboob Musabih and his staff; expert Younus Al Moalem and his team; Major General Abdullah Al Marri and his staff; Lt. Col. Saeed Al Saadi Al Qemzi and his team at the wanted persons unit and Lt. Col. Tariq Hilal Al Suwaidi.
Published 11 October 2017
Last updated 11 October 2017
+ show all updates
Added translation
Added translation