World news story
Senior UK healthcare delegation to visit India this week
Indo-UK Oncology Summit in Chennai on 6 September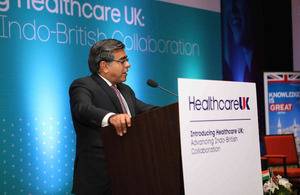 Professor the Lord Kakkar, Healthcare UK Delegation Leader and Professor of Surgery, University College London will lead a large delegation to India this week.
Lord Kakkar said:
It is a privilege to be leading such an impressive delegation of healthcare experts to India. The links between our two countries in healthcare span many decades. In New Delhi the discussion will be on medical education and training and our ambition to assist India in developing the human resources necessary to deliver first class healthcare to all its citizens. In Chennai the first ever UK-Indian Oncology Summit will provide the opportunity to strengthen co-operation in the important areas of clinical practice, research and education to improve outcomes for all cancer patients. The Indo-British Health Initiative (IBHI) must be congratulated on their ambition in hosting such a timely event with potentially crucial outcomes for our two healthcare communities. The India launch of Healthcare UK is an important step, providing as it does, a focal point for healthcare partnerships between UK organisations and healthcare providers in India.
In Chennai, Lord Kakkar will speak at the India launch of Healthcare UK on 5 September. Healthcare UK is a joint venture between the UK Department of Health and UK Trade & Investment, and is a strategic initiative to give healthcare system providers across the world unprecedented access to the UK's healthcare expertise, spanning both the NHS and the commercial sector.
In Chennai, Lord Kakkar will also deliver the Inaugural Address at the Indo-UK Oncology Summit on 6 September. The Summit focuses on three themes a) scientific and technical presentations on latest treatments, protocols, technological developments and innovations; b) opportunities for enhanced partnerships in all areas of cancer care, education & training and c) promotion of products and services, by offering participants access to a wide range of clinicians, hospital promoters and decision-makers.
The 50-member UK delegation comprising universities, companies and cancer sector specialists, aims to explore opportunities for increased collaboration in cancer prevention/treatment, medical equipment, education research and training and several senior representatives from the UK medical Royal Colleges.
Key Indian speakers at the Oncology Summit in Chennai include representatives from Tata Memorial Centre and Hospital and Kokilaben Dirubhai Ambani Hospital, Mumbai, All India Institute of Medical Sciences (AIIMS), New Delhi, Kidwai Memorial Institute of Oncology, Bangalore, Indo American Cancer Centre and Usha Lakshmi Centre for Breast Diseases, Hyderabad, Cancer Institute, MIOT International and Apollo Hospitals, Chennai and Christian Medical College, Vellore. Other speakers include Fortis Memorial Research Institute, Haryana, Mazumdar-Shaw Cancer Center, Bangalore, GEM Hospital, Coimbatore, Manipal Hospitals, Bangalore, Madras Cancer Care Foundation, Kumaran Hospitals, Chennai, HCG Institute of Oncology Speciality Centre, Bangalore, Rajiv Gandhi Memorial General Hospital and Govt. Royapettah Hospital, Chennai.
Key members of the UK delegation to Chennai include representatives from the Christie NHS Foundation Trust and Clinic, the Natinoal Cancer Institute, Cairo, King's College and King's Health Partners Institute of Cancer Policy & Global Health, London, Royal Marsden Hospital, Imperial College, University College London Hospitals, North Manchester General Hospital, Wythenshawe Hospital, Manchester and Institute of Cancer Sciences, Institute for Women's Health, Royal Derby Hospital, Liverpool University, Cambridge University, Edinburgh University, University of Sussex University of East Anglia, University of Leeds, Middlesex University, Skills for Health and Brit Healthcare.
Mr Mike Nithavrianakis, British Deputy High Commissioner, Chennai said:
I am pleased to welcome Lord Kakkar to Chennai which is a renowned healthcare hub in Asia. Lord Kakkar is the third high profile visitor to Chennai this year leading a large healthcare delegation. We hope India's leading healthcare institutions from the public and private sector will have a chance to meet the UK delegation this week and explore opportunities for a stronger, wider, deeper partnership.
Further information:
Published 3 September 2013