World news story
Senior UK Diplomat visits Guatemala to strengthen relations with the new Morales Government
Foreign and Commonwealth Office's Head of the Mexico, Cuba and Central America Team, Jonathan Williams.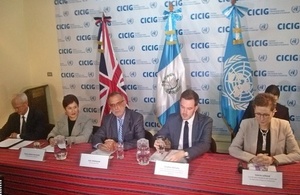 Mr Williams visited Guatemala on 18-19 January to underline the United Kingdom's desire to continue working on issues of mutual interest with the newly appointed authorities of Guatemala.
During this visit, Mr Williams met with the new Second Vice President of Congress, Felipe Alejos, and elected/re-elected deputies for this legislature; Deputy Director of the General Directorate of Multilateral and Economic International Relations at the Ministry of Foreign Affairs, Carlos Cazali; Chief of the International Commission Against Impunity in Guatemala (CICIG), Ivan Velasquez; General Public Prosecutor, Thelma Aldana, and other political, business, and civil society leaders as well as donor partners to understand the new government's priorities and offer the UK's support on specific areas.
Whilst in Guatemala City on 18 January, Mr Williams discussed issues including working together to fight impunity and corruption, for which the UK announced a further contribution to support the work of CICIG for £200,000 (2.2 million quetzals). With this new donation the British people will have contributed 5.6 million quetzals to the work of the Commission since its installation in the country. He also welcomed the remarks made by President Jimmy Morales to extend the mandate of CICIG and work closely with them on several priority topics for Guatemala.
Mr Williams also addressed human rights issues, by meeting with many organizations working for the welfare of children and welcomed the recent changes to the Guatemalan Civil Code that increased the legal age for marriage. He also stated that the United Kingdom is willing to keep working with Guatemala on promoting citizen safety, increasing economic opportunity, strengthening democratic institutions, and the importance of transparent electoral processes, for which he commended the role of the electoral authorities for undertaking an exemplary election process in 2015.
On 19 January, Mr Williams travelled to Petén where he met with local authorities and visited some of the UK financed projects aimed at the protection of the Mayan Biosphere and tackling the illegal wildlife trade. Mr Williams also announced that this year the British Government will be financing a project totalling more than 170,000 quetzals to help communities in southern Petén to implement the agreements reached by the governments of Guatemala and Belize. This will improve mutual cooperation in economic, social and educational issues within the context of the roadmap and help towards achieving a resolution to the territorial dispute.
Published 18 January 2016