Senior NDA management visit Dounreay
High ranking NDA officials visited Dounreay and saw first-hand the work being carried out with the aim to become the European reference site for excellence in decommissioning.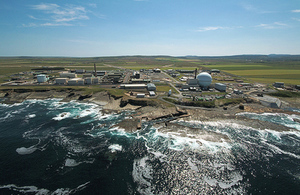 Dounreay hosted a two day visit from John Clarke, CEO and Peter Lutwyche, Sellafield Programme Director.
They had a full programme with visits to all areas of site. The facility visits were combined with meetings and presentations. These included a meeting with the Dounreay Improvement Team and a presentation from the Shaft and Silo team.
John Clarke and Peter Lutwyche both really enjoyed their visit to site and found it to be highly informative.
John Clarke said:
I saw that some great progress has been made and I found the teams I spoke to were enormously committed to their tasks and proud of what they do.
Caithness Horizons was their destination on the morning of their third day. They were given a tour of the museum which now displays the DMTR control room. John Clark then delivered the introductory speech at the NDA sponsored Construction, Design and Management course.
Published 4 September 2015