World news story
Senior manager to establish Office of the Premier and Tourism in TCI
Deputy Governor Anya Williams announces management transfer to better support the premier's office in the Turks and Caicos Islands.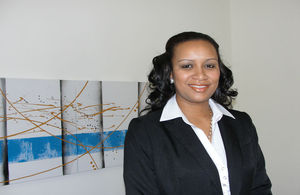 The Turks and Caicos Islands (TCI) Office of the Premier and Ministry of Tourism is to be strengthened by the appointment of Permanent Secretary (PS) Wesley Clerveaux to oversee and develop its portfolio it was announced today, Friday, 10 May 2013.
The new joint office was set up by the premier's recent ministerial reshuffle. Clerveaux is to be transferred from his role as PS in the Ministry of Government Support Services (GSS) with effect from Monday, 13 May 2013.
He will be acting PS of the new office and will assist the premier in overseeing all ministers and ministries in government, making use of his wealth of government knowledge and experience, having served several years in a range of ministries.
The permanent full-time rank and office of the senior civil servant in the Office of the Premier and Ministry of Tourism will be decided in the future.
This appointment was initiated by the Deputy Governor, Anya Williams, in consultation with Governor Ric Todd. The Premier Hon Rufus Ewing has also welcomed the move as a key aspect of his delivering on his manifesto commitments, and also to fully engage his ministry in the budget planning process. It is the TCI government's intention to present the budget to the House of Assembly in mid July.
Ian Astwood has been appointed as the acting permanent secretary in GSS where he will be assisted by recently appointed Deputy Secretary Russell Cox.
Published 10 May 2013