World news story
Senior Foreign Office Minister visited Brunei
The Rt Hon Baroness Warsi met His Majesty The Sultan, members of government, religious leaders and built links with religious institutions.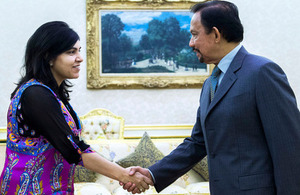 Senior Minister of State at the Foreign and Commonwealth Office and Minister for Faith and Communities at the Department for Communities and Local Government, the Rt Hon Baroness Warsi, visited Brunei from 18 to 20 April 2014.
This was Baroness Warsi's first visit to Brunei since she assumed office in September 2012. Brunei was the first stop on her South East Asia tour.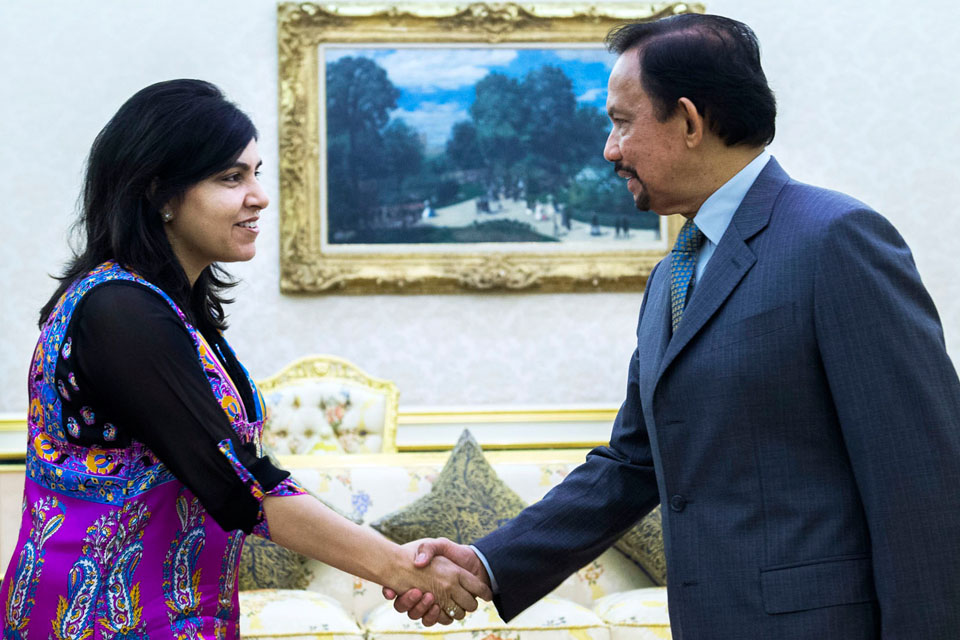 His Majesty the Sultan and Yang Di-Pertuan of Negara Brunei Darussalam received in audience the Rt Hon Baroness Warsi on Saturday 19. The Minister also met His Royal Highness Prince Hj Al-Muhtadee Billah, the Crown Prince and Senior Minister at the Prime Minister's Office and His Royal Highness Prince Mohamed Bolkiah, Minister of Foreign Affairs and Trade.
Baroness Warsi's first official engagement was a breakfast with senior Bruneian women with whom she discussed the roles of women in Bruneian society working in governmental, legal and parliamentary systems and more generally in Bruneian life.
Following her audiences with His Majesty and His Royal Highnesses, Baroness Warsi hosted a roundtable discussion with staff and students from Universiti Islam Sultan Sharif Ali, Sultan Omar 'Ali Saifuddien Centre for Islamic Studies and Universiti Brunei Darussalam exploring further opportunities for collaboration with British academic institutions.
The Minister also had the opportunity to visit the Sultan Omar Ali Saifuddien Mosque and met with the State Mufti, Pehin Datu Seri Maharaja Dato Paduka Seri Setia (Dr) Ustaz Hj Awg Abdul Aziz.
The British High Commissioner to Brunei, H.E. David Campbell hosted an Islamic Finance focused dinner. Among the guests were Deputy Minister at the Prime Minister's Office, Dato Paduka Haji Ali Haji Apong, Bruneian Global Islamic Finance and Investment Group member Mr Javed Ahmed and others from the government, banking and academic sectors. The dinner gave Baroness Warsi the opportunity to explore opportunities for UK and Brunei collaboration within Islamic Finance, education and training.
On Sunday, Baroness Warsi joined members of the British community for Easter Sunday service at St. Andrew's Church.
Further Information
Follow Foreign Office Minister Baroness Warsi on twitter @SayeedaWarsi
Follow UKinBrunei on Twitter @UKinBrunei and Facebook
Published 16 April 2014