Press release
Senior British Cabinet Minister to lead healthcare mission to Mumbai
Kenneth Clarke, UK PM's Trade envoy for healthcare, to bring over 20 companies to India. He will be In Mumbai 6 & 7 May 2013.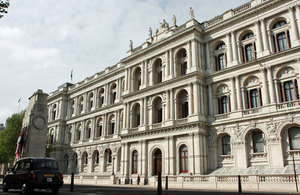 Senior British Cabinet Minister and the Prime Minister's Trade envoy for healthcare Rt. Hon. Kenneth Clarke will lead a large UK healthcare business delegation to India next week, comprising 23 companies and 30 delegates. They will visit Mumbai (6-7 May) and Chennai.
Speaking about his visit to India, Mr Clarke said:
Many people say that the National Health Service is the closest thing the British have to a religion. But what they don't know is that our NHS was only actually built with the help of Indian doctors, and continues to rely on them. Now some of the most exciting British companies are being drawn to India to return the favour in kind. As a result of the NHS people in Britain have amongst the fastest access to GPs in the world, the best coordinated care, and they suffer from the fewest medical errors. Britain is quite simply a world leader in organising and administering first class medical care. The companies I am taking with me on my visit want to bring all this expertise to India. The historic partnership between Indian and British doctors has already saved millions of lives in Britain. On our visit we will be meeting senior ministers and officials, and visiting hospitals and clinics, to work out how together we can save millions more.
The delegates who will be accompanying Mr Clarke will represent a range of healthcare services from primary care, healthcare IT, emergency care, healthcare education and consultancy. Companies on the delegation include BT, London Ambulance Service, Serco, TPP, Royal Free Hospital, BMJ, King's College Hospital and Healthcare UK, which is a joint initiative between UK Trade & Investment (UKTI), the UK government's Department of Health and the NHS, instituted to support UK companies to work with overseas governments and healthcare providers.
While in Mumbai, Mr Clarke and the delegation will meet Maharashtra Health Minister Dr Suresh Shetty and Maharashtra healthcare ministry officials. Mr Clarke and the delegation will also visit some prominent healthcare establishments such as Healthspring and Global Hospitals. They will also participate in a panel discussion on opportunities in the healthcare sector, which will be attended by leading Indian healthcare professionals and organisations. This visit to Mumbai will build on the visit in February this year of the British Prime Minister the Rt. Hon. David Cameron, when the UK healthcare delegates accompanying him also met Dr Shetty and Maharashtra Health Secretary Mr T C Benjamin.
Further information
UKTI Trade Mission to India - brochure (PDF, 3.65MB, 24 pages)

For further information please contact Mr Ashish Mehta (+91 97699 89656) or Mr Maju Jacob (+91 9920154927) at the British Deputy High Commission Mumbai

UK Trade & Investment is the UK Government's international business development agency, supporting overseas businesses seeking to establish in the UK and helping UK companies grow internationally.
Published 3 May 2013