World news story
Seminar about better practices in public procurement in Santiago
British expert spoke at a Seminar organised by government agency ChileCompra to promote better practices in public procurement.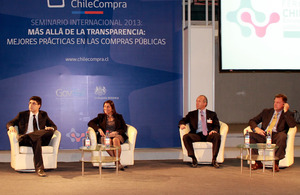 With the support of the British embassy in Santiago and the International Governance and Risk Institute (GovRisk), ChileCompra organised a Seminar on 15 May to promote better practices in public procurement and stop potential irregularities in the process carried out by Chilean authorities. During the seminar, the ChileCompra Observatory initiative was also launched with the purpose of reducing bureaucracy and improving the quality of public procurement in Chile.
Michael Kramer, an anti-corruption expert representing GovRisk and senior consultant of the World Bank spoke about how to prevent fraud in the public procurement process and related contracts, and what are the best strategies existing worldwide to prevent such irregularities.
At the event Russell Baker, Chargé d'Affaires at the British Embassy, said:
The British government believe this is an important part of the agenda to advance economic reform in Chile. So we are very pleased to have financed the participation of Mike Kramer of the British organisation GovRisk. We also intend to continue our collaboration with ChileCompra and the Chilean government on the agenda of public procurement this year. And one of our plans is a training course on reducing bureaucracy, carried out by GovRisk, in August.
For more information about our activities, follow us on:
Published 20 May 2013