World news story
Cultural week at the British Ambassador's Residence
From 19 to 23 May, the British Embassy celebrated Shakespeare and Latin American art with guest experts from various sectors and cultural figures.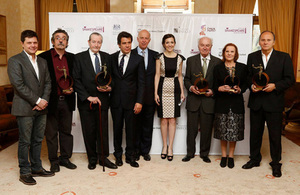 *British Ambassador John Freeman with the five award-winning artists and academics, Patricio Orozco and Cristina Perez. In the context of the 450th anniversary of William Shakespeare's birth, neurologist Facundo Manes gave a master class about the connection between neurosciences and the works of the British playwright. Dr Manes went through the main topics and characters in Shakespeare's works and explained them from a scientific perspective. During the event, Patricio Orozco, director of the Shakespeare Buenos Aires Festival, together with the Culture Minister of the city of Buenos Aires, Hernán Lombardi, and the British Ambassador, John Freeman, presented awards to five artists and academics for their contribution to the promotion of Shakespeare's works. The award winners were: Agustín Alezzo, a stage director; María Comesaña, an actress; Jorge Dubatti, an academic; Kive Staiff, former director of the San Martín Theatre; and Osvaldo Quiroga, a critic.
To see the full version of the master class by Dr. Manes, please click here.
*José Roca, a curator at Tate Modern, announced at the British Embassy the incorporation of new items into the museum's collection: a set of vintage photographs from the series "Una milla de cruces sobre el pavimento" by Chilean artist Lotty Rosenfeld. The items were donated by Patio Bullrich and will become part of the museum's permanent collection, which is regarded as one of the most complete contemporary art collections in the world. It includes works of renowned artists like Picasso, Warhol and Dalí. The museum receives about 5,2 million visitors a year and is London's second most popular attraction. The new items will no doubt open the door for new Latin American artists to access the European art world and will also promote intercultural links between the UK and Latin America. Look at the new items in the Tate collection by clicking here.
*To celebrate 450 years of William Shakespeare, Essarp (English Speaking Scholastic Association of the River Plate) and the Enseñanza Superior en Lenguas Vivas, presented "Celebrating Shakespeare" at the British Embassy, a programme consisting of talks and lectures about the British playwright. If you would like to know exactly what the scheduled events are, click here to download the programme.
Published 17 June 2014