Press release
Selly Park North and South flood drop-in events
The Environment Agency is inviting local residents and businesses to attend drop-in events to discuss the recent flooding in the Selly Park area.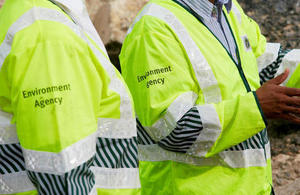 The drop-ins are from 3pm until 8pm.
Selly Park North drop-in: Monday 18 July
Selly Park Tavern (skittle alley)
592 Pershore Road
Birmingham
B29 7HQ

Selly Park South drop-in: Wednesday 20 July
Christ Church
953 Pershore Road
Birmingham
B29 7PS

Environment Agency staff want to talk to residents that have been recently affected by flooding and provide information about how they're working to help reduce the risk of flooding. They will also be providing information about how people can be better prepared with representatives from Birmingham City Council also on hand to answer questions.
The area of Selly Park has a history of flooding from the River Rea, the Bourn Brook and surface water, most recently in June 2016 when residents were affected by very heavy rainfall. The Environment Agency has been working in partnership with Birmingham City Council and other organisations to develop schemes to help reduce the risk of flooding for properties in the Selly Park area.
Mike Adams, Environment Agency Flood Risk Adviser, said:
Flooding can have devastating impacts on people and their homes, often long after the water has gone. Some of the residents here have already experienced that first hand. This is a great opportunity for the community to come and talk to us and tell us about their experiences, hear about our plans and find out how to be better prepared.
The Environment Agency encourages everyone to check if they're at risk of flooding and register to receive free flood warnings by going online or calling Floodline on 0345 988 1188.
Published 18 July 2016