News story
Sellafield team delivers DIY SOS for Millom man
A team of Sellafield Ltd workers appeared on the BBC programme DIY SOS, as they worked on a garden makeover for a friend.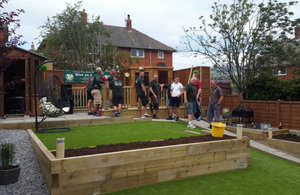 A team of Sellafield Ltd workers recently undertook a DIY SOS-style garden makeover for their friend Glyn Robinson, who is suffering from an inoperable brain tumour.
The makeover, which was recorded by the BBC for North West Tonight, tugged at the heartstrings of those involved as well as those watching on TV.
The garden was redesigned to offer former rugby league star Glyn somewhere to recuperate and spend time with his wife and two children, after his treatment.
Sellafield Ltd employee Keiron Clarke said:
Glyn is a very well-known and popular guy – he's a Gen2 welding instructor, a former Millom RL player as well as a retained firefighter. This meant that there was fabulous support for the refurbishment from Sellafield Ltd employees, as well as supply chain partners and local building firms.
The project consisted of work to make the garden more accessible, by removing all of the steps and the steep slope - and low maintenance, thanks to a new Astroturf lawn. A new dog kennel and dog run was installed, as well as a decking area with a 'lazy spa' and a 'man shed' with a TV, sofa and family pictures.
Keiron said:
We were all happy to help transform his garden into a more accessible and pleasant environment in which he can recuperate after his recent treatment. The reaction from Glyn was very emotional – it was clear just how much it meant to him. It was worthwhile just to see this.
Published 4 July 2016