Secure College development drives local jobs and growth in Leicestershire
Local businesses given the chance to win valuable contracts in the development of the first Secure College, Justice Minister Andrew Selous announced.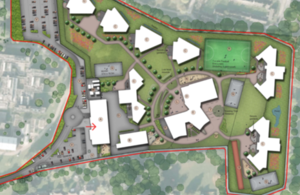 Companies have been able to showcase their products and services to preferred bidder Wates Construction, which has committed to 70% of construction appointments going to local businesses. There is also a commitment to create 32 apprenticeships, 30 new jobs and 24 work placements for local schoolchildren, giving a great financial boost to the region.
Attending the showcase event in Leicester, Justice Minister Andrew Selous said:
The development of the Secure College will give a massive boost to the local economy in Leicestershire.

Thousands of pounds will be spent with small businesses ranging from carpentry to brick-work to landscaping, providing valuable jobs and training for apprentices.

This innovative approach will not only transform the landscape of youth custody, but will also give local businesses the opportunity to expand and be part of an important and exciting new project.
The event will allow local SMEs to demonstrate what they can offer in a variety of trades including lift installation, painting and decorating, signage and steelwork.
Secure Colleges will be a new generation of secure educational establishments which will put education at the heart of youth custody. If the pathfinder Secure College proves successful it will inform our vision for the future of the youth custodial estate.
Planning permission for the Secure College has been submitted to Blaby Council for a 320 place establishment, with new sports facilities, and learning skills blocks to provide education and training for young offenders.
Throughout construction Wates has also pledged to offer a range of employment and training opportunities, including its national Changing Paths programme, designed to help secure jobs for ex offenders and those that are long term unemployed.
Phil Harrison, Managing Director, Wates Construction Midlands and North, commented:
Procuring a local supply chain has a deep-seated effect on boosting and sustaining local employment and it is for this reason that all of our projects are delivered in collaboration with nearby suppliers and sub-contractors.

We have an established supply chain in the East Midlands that we are now looking to expand upon and we welcome those interested to attend our Meet the Buyer event in Blaby.
Legislation on Secure Colleges is included in the Criminal Justice and Courts Bill which is currently progressing through Parliament.
Notes to editors
Currently almost 7 in 10 young offenders return to crime when they are released.
The Secure College will be purpose-built and designed around a fully-equipped education facility. It will have living units designed specifically for the different groups of young people accommodated there and to ensure safety. Every young person will have an Individual Learning Plan that they will be expected to achieve while in custody and which will continue after release in the community. This plan will ensure that upon leaving custody local providers can continue the programme of work started in the Secure College.
Building work for the Secure College is expected to begin in 2015 and it is due to open in 2017. It will be capable of holding up to 320 young offenders aged 12-17. Legislation is going through Parliament to create Secure Colleges as a new form of youth detention accommodation, in the Criminal Justice and Courts Bill.
The Secure College will serve young offenders from the Midlands and the East of England, though offenders from other areas could also be taken.
The total overall cost to construct the Secure College Pathfinder is about £85 million. This includes the cost of the construction contract as well as project management and other specialist services needed to deliver a fully functioning Secure College.
The average cost of a place in youth custody is around £100,000 per annum
Over half of 15-17 year olds in YOIs have the literacy and numeracy level expected of a 7 to 11-year-old, and research also shows that 18% of sentenced young people in custody have a statement of special educational needs.
In 2012 to 2013, 2,780 young people were sentenced to immediate custody and in June 2014 1,198 young people were held in the youth secure estate (including 18-year-olds). The number of young people in custody has consistently fallen year on year. See https://www.gov.uk/government/publications/youth-custody-data for more information.
For more details please contact the MoJ Press Office on 0203 334 3536.
Published 4 September 2014