News story
Sector Skills Council relicensing decision for Lifelong Learning UK
The decision follows a re-licensing review process managed by UK Commission for Employment and Skills (UKCES), who have advised that the responsibilities…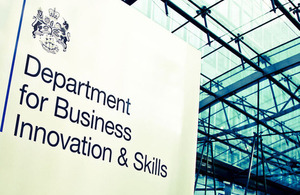 The decision follows a re-licensing review process managed by UK Commission for Employment and Skills (UKCES), who have advised that the responsibilities currently fulfilled by LLUK across England, Northern Ireland, Scotland and Wales are not compatible with the projected level of resources.
LLUK will remain in place until 31 March 2011. Discussions are ongoing on future arrangements, which will take effect from 1 April 2011
Charlie Mayfield, Chairman of the UK Commission for Employment and Skills added:
"The UK Commission will work with LLUK to help ensure a seamless transition of the core elements of its work to other partners next Spring. I would like to thank the staff and management at LLUK for the professionalism they have shown throughout this difficult time."
Sector Skills Councils are employer-led bodies, established to enable employers to exert influence on the UK's education and skills systems to ensure they meet their needs. The relicensing process is overseen and managed by the UK Commission for Employment and Skills.
The Government announced in March this year that there would be a fundamental review of the options available for coverage of the sector falling under LLUK's responsibilities.
**Notes to editors: **
The UK Commission for Employment and Skills makes a recommendation to Ministers in England and the Devolved Administrations as to whether an SSC should receive a further licence. The decision to award or withhold the licence is made by Ministers. More information, including a detailed description of the relicensing process, is available at www.ukces.org.uk <http://www.ukces.org.uk/&gt; - click on Sector Skills Councils.

Lifelong Learning UK is responsible for promoting the professional development of employees in career guidance, community learning and development, further education, higher education, libraries, archives and information services, and work-based learning across the UK.

BIS' online newsroom contains the latest press notices, speeches, as well as video and images for download. It also features an up to date list of BIS press office contacts. See http://www.bis.gov.uk/newsroom for more information.
Notes to Editors
Contact Information
Name BIS Press Office Job Title
Division COI Phone
Fax
Mobile
Email NDS.BIS@coi.gsi.gov.uk
Name Katie Kilgallen Job Title
Division Department for Business, Innovation & Skills Phone 020 7215 1861 Fax
Mobile
Published 9 December 2010