News story
Secretary of State welcomes Irish President's upcoming visit to UK
President Michael D Higgins has accepted the Queen's invitation to visit to the UK for 3 days next spring.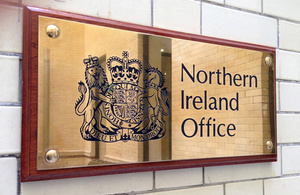 The Queen formally invited the President to stay at Windsor Castle next April, the first time an Irish head of state has been formally invited to the UK by a British sovereign.
President Higgins has met members of the Royal Family previously, but this will be his first official state visit to the UK.
Commenting on the President's acceptance of the invitiation, the Secretary of State for Northern Ireland, Theresa Villiers said:
I'm delighted that President Higgins has accepted the Queen's invitation to visit the UK next April.
Like Her Majesty's visit to Ireland in 2011, President Higgins' trip will be a significant and historic occasion for both the UK and Ireland, which will further strengthen the political, economic and cultural links between our 2 countries.
It will also provide some great opportunities to celebrate the friendly and positive relationship that the UK and Ireland now enjoy, a relationship which is closer than it has ever been.
Published 18 November 2013