Press release
Secretary of State welcomes FinTrU announcement
Secretary of State Karen Bradley has welcomed today's announcement that FinTrU will create 605 new jobs over the next five years.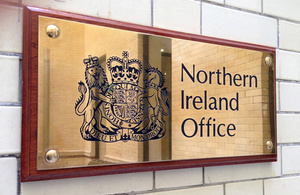 Secretary of State for Northern Ireland, the Rt Hon Karen Bradley MP said:
Today's announcement is fantastic news for Belfast, Derry-Londonderry and indeed the entire Northern Ireland economy.
Over the next five years, more than 600 new jobs will be created and over £15million in additional annual salaries will be generated for the local economy. On top of this, FinTrU will benefit from a projected £20million in additional export sales.
This significant investment is testament to the exceptional talent and attractive locations the North West and Belfast has to offer and once again goes to prove that Northern Ireland is leading the way in Financial Services.
Published 26 June 2018