Secretary of State visits Newry and Banbridge
The Rt Hon Theresa Villiers, Secretary of State for NI today visited the city of Newry. Her first meeting of the day was with the Mayor of Council, John McArdle and other local councillors from Newry and Mourne District Council.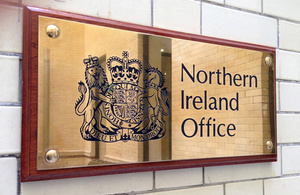 She then met with members of the Newry Chamber of Commerce who gave an overview of their plans for Newry as well as the current concerns of the business community. Before departing Newry she visited Bagenal's Castle, a 16th Century fortified house which encorporates the Tourist Information Centre and museum. At the Castle she received a presentation on the development of a new Irish language centre in the City, as well as their Low Carbon City Zone and the Community Policing/Datahub project.
Her final visit of the day was to FE McWilliam Gallery, Banbridge where she was given a short tour of the gallery by Dr Rianne Coulter, Curator of the Gallery before joining the Chairman of Council, Junior McCrum for an short informal lunch.
Published 28 September 2012