News story
Secretary of State urges Northern Ireland's political leaders to come together to resolve ongoing protests on flags
The Secretary of State for Northern Ireland, the Rt Hon Theresa Villiers MP, held a series of meetings in Stormont House with leaders of Northern Ireland political parties to discuss the flags controversy.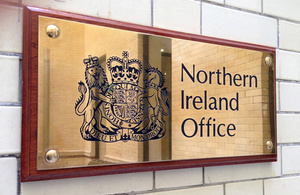 Following meetings to seek a resolution to the flags controversy, the Rt Hon Theresa Villiers said:
I have today urged Northern Ireland's political leaders to come together to find a way forward to resolve the ongoing protests on flags. It is vital that all the parties work together to make progress towards a cohesive and shared society where decisions on issues like flags can be made in a way which respects different views and takes into account the different traditions and identities of modern Northern Ireland.
While I understand the strength of feeling on flags, the disruption caused by these protests is damaging Northern Ireland's economy, particularly for retailers who are heavily dependent on shoppers turning out in the run-up to Christmas. The fact that threats and protests continue to impede elected representatives in carrying out their duties also continues to be a major concern.
There will be huge opportunities for Northern Ireland in the coming year, with events like the G8 summit, City of Culture, the World Police and Fire Games. It is in all our interests to promote a modern forward looking Northern Ireland to the world as a great place to visit and invest in. None of us want to see the clock wound back to an era of sectarian tension when there is such important work to be done to rebalance Northern Ireland's economy and boost jobs and growth.
Published 17 December 2012