News story
Secretary of State Theresa Villiers meets Tánaiste Eamon Gilmore in Dublin
The Secretary of State the Rt Hon Theresa Villiers today met Tánaiste Eamon Gilmore in Dublin.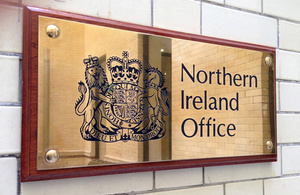 Following the meeting the Secretary of State said:
I very much welcomed the opportunity to meet Tánaiste Eamon Gilmore today. Of course the brutal murder of Prisoner Officer, David Black, was at the top of our agenda for discussion today. I wish to extend my gratitude to the Minister and the entire Government of the Republic of Ireland for their condemnation of this despicable atrocity and for the support they continue to show in combating terrorism.
It is in both our interests that this scourge is driven from our society. I would like to pay tribute to the joint efforts of the PSNI and An Garda Siochana working together for this aim.
During our meeting we also discussed a range of issues of mutual interest which will benefit all people across the island and on which we hope to make progress in the future.
Published 6 November 2012