Secretary of State "profoundly sorry"
I have now read the Police Ombudsman's report on the Claudy bombing in full. The Ombudsman's remit was to investigate evidence relating to the conduct of the RUC, but it is right that I respond to his observations on the role of the government of the day.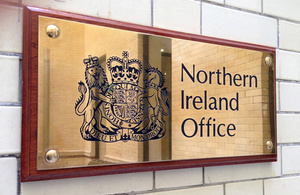 The Claudy bombing was a terrible atrocity carried out by terrorists during the bloodiest year of the Troubles.  
I absolutely condemn the actions of the terrorists who were responsible.
It was a despicable and evil act carried out by despicable and evil people.
My anger at the actions of those responsible for the attack is matched in strength by my sorrow that the survivors of the atrocity and the relatives of the dead did not see those responsible brought to justice for their crimes.  
I recognise, of course, that all those involved in combating terrorism at the time were making decisions in exceptionally difficult circumstances and under extreme pressure.
The Claudy bombings took place during a month which also witnessed the end of a temporary IRA ceasefire, the Bloody Friday bombings, Operation Motorman and widespread civil disorder and violence.
Nearly 100 people died in July 1972 alone, making it the most violent month in the most violent year of the Troubles.
In relation to the interaction between the RUC, the then Secretary of State and the head of the Catholic Church in Ireland about Father Chesney, the Ombudsman's report states that "the actions of the senior RUC Officers, in seeking and accepting the government's assistance in dealing with the problem that Father Chesney's alleged wrongdoing presented, was by definition a collusive act."
With respect to the government, the Ombudsman observes that the government was "asked by police to assist in resolving a matter of public interest. They had a legitimate interest in doing so. In the course of this enquiry the Police Ombudsman's investigation found no evidence of any criminal intent on the part of any government minister or official."
In his conclusions, the Ombudsman finds that the RUC decision not to investigate Chesney was "wrong" and "contrary to a fundamental duty of police to investigate those suspected of criminality."
The PSNI have expressed their regret that opportunities to arrest and interview all of the suspects were not taken in 1972.
For my part, on behalf of the government, I am profoundly sorry that Father Chesney was not properly investigated for his suspected involvement in this hideous crime, and that the victims and their families have been denied justice.
In the course of their investigations both the PSNI and the Police Ombudsman have conducted enquiries with the Department. I can confirm that the Department's files have been extensively searched and that all relevant documents were provided to the Ombudsman.
The only document referring to discussions about Father Chesney is **the letter of 6th December 1972** quoted in the Ombudsman's report.
In the interests of transparency I am today publishing the document and will send a copy to the Public Record Office in Northern Ireland, the National Archives and the Linenhall Library."
**
Published 24 August 2010