News story
Secretary of State on visit to Warrington Peace Foundation
Owen Paterson MP visits Tim Parry Johnathan Ball Foundation for Peace Centre and finds out about their work.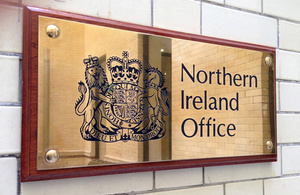 Secretary of State Owen Paterson MP visited the Tim Parry Johnathan Ball Foundation for Peace Centre in Warrington on Friday.
The foundation was set up by Colin and Wendy Parry in memory of their 12 year old son Tim, who was killed by an IRA bomb in Warrington in March 1993 along with 3-year-old Johnathan Ball.
This was Mr Paterson's first visit to the centre as Secretary of State.
Mr Paterson also met local MP David Mowat.
The chief executive of the foundation, Clare White explained how the work of the centre in the field of peace and reconciliation and conflict resolution had spread well beyond its original focus on the impact of the Northern Ireland Troubles.
The foundation's 'Survivors for Peace' programme, which works with victims and survivors of political violence and terrorism, has worked with over 200 participants and is networked through an EU-funded programme working with 27 organisations from 6 countries. It is working with those affected by incidents such as the Troubles, 9/11, 7/7, military campaigns including Iraq and Afghanistan, and other terrorist attacks and conflicts around the world.
In recent years the foundation has worked with young people to tackle key issues affecting society today - prejudice, discrimination and violence within our communities. Projects include tackling racism in a school in South Leeds post 7/7, working with young people involved in gangs and providing social inclusion programmes to schools working with children aged 5-7 to reduce aggression in the playground.
Following the visit, the Secretary of State said: "The response of Colin and Wendy Parry to the terrible tragedy of Warrington is moving and inspirational.
"The Foundation is engaged in important work that now goes well beyond the particular circumstances of the conflict in Northern Ireland.
"I wish the all those who are working to resolve conflict, help victims and survivors to come terms with their trauma and to deal with the past every success."
Published 11 February 2011