News story
Secretary of State offers her condolences on death of Lord Molyneaux
Following this morning's news of the death of Lord Molyneaux, Ms Villiers commented: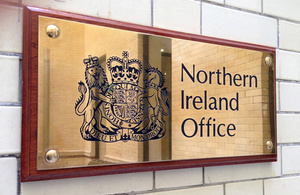 It is with deep regret that I heard of the death of Lord Molyneaux this morning. While I did not have the chance to work with him personally I was never in any doubt about the esteem and affection in which he was held. Whenever Jim Molyneaux's name was mentioned the word 'gentleman' was always used to describe him.
It is right that we remember his distinguished years of public service, as a Parliamentarian and leader of the Ulster Unionist Party. In that role he helped to steer Northern Ireland through its darkest days from the 1970s to the 1990s and for that we should all be grateful. The peace and stability we enjoy today is in no small part due to the fortitude, courage and unswerving commitment to democracy of Jim Molyneaux.
Lord Molyneaux was also a man of deep religious faith who served his country with great distinction in the Second World War. Northern Ireland has lost a great servant and my condolences go to all his family, friends and colleagues.
Published 9 March 2015