News story
Secretary of State lends her support to the UK's first City of Culture
The Rt Hon Theresa Villiers MP commented on Derry's opportunities as the 2013 City of Culture.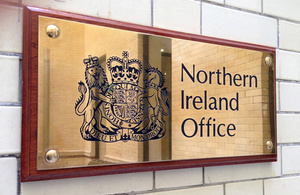 The Secretary of State, the Rt Hon Theresa Villiers MP, today visited Derry-Londonderry to lend her support to the inaugural UK City of Culture for 2013.
She had the opportunity to visit the Void Gallery, one of the main venues for the programme's key events and met with one of Northern Ireland's foremost artists, Rita Duffy. She also viewed the The Venue which will showcase the prestigious Turner Prize later this year. 
Speaking during her visit Theresa Villiers said:
City of Culture will be a great showcase not only for the city, but for Northern Ireland and the whole of the UK. I hope that the many wonderful events planned for this year will deliver a lasting legacy, both culturally and economically.
It has the potential to provide a real boost to the city through increased tourism, jobs and regeneration and most importantly through relationships, by bringing people together and building on the huge progress that has been made in Northern Ireland and throughout these islands over the past two decades.
Published 5 January 2013