News story
Secretary of State Launches NI Poppy Appeal at Hillsborough
The 2011 Northern Ireland Poppy Appeal is launched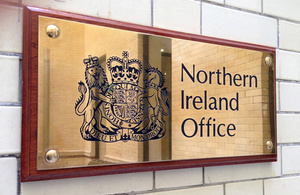 Secretary of State Rt Hon Owen Paterson MP Launches the Northern Ireland Poppy Appeal at Hillsborough
'Shoulder to shoulder', the Northern Ireland Poppy Appeal was launched by the Secretary of State for Northern Ireland, Rt Hon Owen Paterson MP and local Afghhan Widow Brenda Hale, at Hillsborough Castle today.
Secretary of State Rt Hon Owen Paterson MP said:
"We're urging everyone to throw their support behind the Poppy Appeal 2011, as money raised will go towards providing vital care for injured Service people,"
"The Personnel Recovery and Battle Back Centres will help our injured Armed Forces build confidence, motivation and independence and then either return to duty, or re-skill and make a successful transition to civilian life."
The Northern Ireland Poppy Appeal Launch was held in the gardens of Hillsborough Castle where Brenda Hale and Secretary of State, Owen Paterson released 90 poppy red balloons to represent 90 years of the appeal in Northern Ireland.
More than £1.4 million a week or over £200,000 a day is spent by the Legion on its work helping over 160,000 members of the Armed Forces Family - serving, ex-Service and their dependants.
Published 28 October 2011