Press release
Secretary of State for Wales responds to UK City of Culture 2017 announcement
Hull beats Swansea Bay in the race to the City of Culture title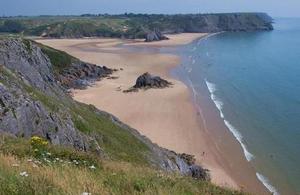 Secretary of State for Wales, David Jones said:
As much as today's announcement will come as disappointing news to those who have supported Swansea Bay's bid, they should be rightly proud of all that they have achieved.

The 'Cwtch the Bid' campaign was an inspiring effort that spread beyond a city and a region; it was an effort that galvanised the support and imaginations of people all across the country.

We must now capitalise on the passion and commitment that this campaign has roused. With a whole year of celebrations planned in 2014 to mark the centenary of the birth of Swansea's most famous son, Dylan Thomas, the region will still have its time to shine as a cultural powerhouse in Wales.

This effort has shone the spotlight on one of Wales's best kept secrets. Let us now use this opportunity to help to attract more visitors to its shores, to bring community members together, and to ensure Swansea Bay continues to be a true city of culture.
Published 20 November 2013